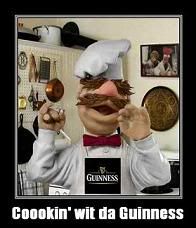 Guinness Roast
3 lbs beef rump
3 tablespoons coarse black pepper
1 pint Guinness Stout
1/4 cup olive oil
1 tablespoon flour
2 cloves garlic
1 bay leaf
4 slices carrots
3 cubed potatoes
Preheat oven to 350f, crush garlic mix with pepper and rub in to beef.
Place beef in a roasting tin and mix Stout, 1 cup of water, bay leaf and oil, add to roasting tin. Roast for 90 minutes, add vegetables and continue for 30 minutes.
Remove beef and vegetables from tin, pour liquid from tin in to a sauce pan, and bring to boil, add 1/2 cup of water and 1 tablespoon of flour mix gradually. Simmer until thick. Serve.
Last edited: