The networking model in RO2, or more specifically, its lack of latency compensation, has been a
common
topic
on
these
forums
. Every time it comes up, there's always several people who say they don't notice any problem. If you don't know what to look for, that's fairly understandable. In a fast-paced game, it's easy to chalk it up to simply missing, or perhaps vastly overestimating bullet time of flight. Others point the finger at what would be a more visible flaw, such as bugs in the damage model or hit detection.
Tripwire has dutifully investigated those bug reports multiple times since the game's release, and each time, they can't find a problem. Only, those bug reports keep coming in. There's obviously a problem, except it's not a bug, and it's not in damage or hit detection. It's a fundamental design flaw of the networking model itself, which becomes clear with some analysis.
So here's just one possible example out of many, in gory detail (1 MB image):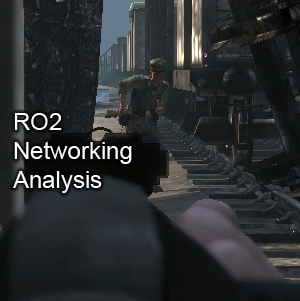 The networking model drastically alters every shot made at a moving target. This target was running almost directly at me, with barely any lateral motion at all, and it's still enough to turn an almost perfect heart shot into what only narrowly avoids being a complete miss.
Instead of traveling at 865 meters per second, my Mosin-Nagant shot had an effective speed of less than 100 meters per second. It's not realistic, it's not accurate, and giving movement such a huge artificial advantage is not good for gameplay either.